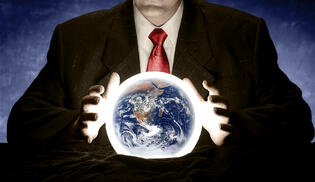 2012 is in full swing, and our 2011 eDiscovery predictions are distant memories. We've seen the forecasts for 2012 in the form of tweets, blogs and articles over the last number of weeks, as the "experts" forecast what's to come. Before we look at what's going to happen though, we should take a look at what the forecast was last year and which predictions actually panned out.
Commentators published their opinions left, right and centre last year. Industry "celebrities" like Ralph Losey, Bob Ambrogi, Farrah Pepper and Monica Bay all decided to share their plans. The themes of all were similar and on part with predictions from throughout the media.
What eDiscovery predictions came true from 2011?
One of the big predictions that experts made was that data sources would become increasingly diverse. This was right on the mark. There are so many more places for electronic information (or ESI, as we call it) to be created, stored and discovered than there were a year ago. With more sources of data comes an even greater volume of data to store and search through.
We've applied this concept to our solution for email archiving. Communication mediums in organizations now aren't just confined to email, so our solution takes into account other messaging forms, like instant messaging.
Social media and eDiscovery in 2012
The profile of social media was heightened throughout 2011. When organizations make use of social platforms to carry out business this could make social activities liable for eDiscovery. Experts predicted this would happen at the start of 2011 and they were right: a mid year litigation trends survey indicated that an increasing number of organizations received requests to produce social media in eDiscovery and there were far more cases where social media data played an important role.
While social media may not be a routinely called upon form of information just yet, we can see this area growing. It makes sense for organizations to consider the management of their social media platforms and how they might prepare for eDiscovery requests in the future
To learn more about ediscovery download The Jatheon Guide to ediscovey