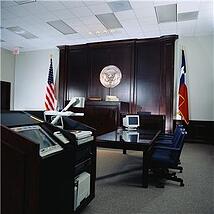 The hot topic among most IT professionals is eDiscovery. This is because the legal implications and obligations arising from eDiscovery law is gripping most IT departments by the throat. Companies are scrambling to get their compliance ducks in a row. Owing to this, conferences and talks are popping up right across the US and Europe, gathering those in the know with those who want to be, and spreading knowledge about how to tackle the eDiscovery problem.
If you choose to attend a conference or seminar, most will cover the basic eDiscovery requirements as mandated by law, give some examples of recent court cases that have influenced the development of eDiscovery, and offer up some insights on how to interpret the results of eDiscovery and ensure your organization is prepared for compliance issues. There are a number of recent legal cases that come up time and time again when we attend these conferences.
VOOM vs Echostar. 2012 in NY (00658)
This court case reached a decision that proposed the introduction of imposing legal "holds" for document preservation purposes. What can be derived from this is that there may be certain standards set in the future which mandate that timed retention policies be frozen in the event that the prospect of a legal situation arises.
Pippins vs KPMG
This lawsuit arose from a class action lawsuit. It examined the definition of what "key custodians" are, and eventually demanded the full preservation of records on over 100 hard drives.
Sutton vs Print Direction Inc (4469712)
In this case, the court upheld that an employer was entitled to monitor an employee who brought his own laptop to work. It arose that the employee was bringing the laptop to work in order to work on a competing venture using his employer's Internet connection. Is this company entitled to monitor and archive this person's activity using the personal device on a company network?
These court cases impact the way we think about eDiscovery and the way we prepare for the future. So, what do you think of these developments and do you feel they will affect your own data retention practices? We're interested to know what you think, so sound off below.
For More Information on achieving Compliance, Download our White Paper "Simple steps to Compliance".