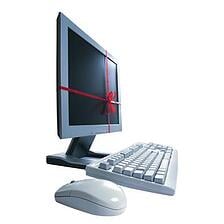 While it may not sound like the most fun gift in the world, email archiving can actually be a godsend for your IT personnel. And if you think it's like backup, it's not. Archiving is a system where your emails are indexed and secured so that they can be retrieved quickly- email backups don't allow for easy or quick searching and retrieval, and certainly don't stand up to compliance requirements.
So what does email archiving do for your business, and especially your IT staff?
Email archiving helps businesses by protecting sensitive email records and clearing the server load at the same time. These email records are retained for regulatory or eDiscovery purposes. Email archiving captures all inbound, outbound and internal email content, so you can keep track of employee activity (the sheer act of archiving acts as a deterrent to time wastage).
Reasons to give the gift of email archiving to your IT staff:
Email archiving automates administrative responsibilities related to the management of email systems. So it reduces the time that IT admins have to spend on these tasks.
Time on support and at the help desk is greatly reduced, and time spent managing inboxes and retrieving lost emails is reduced with automated retention policies.
Email archiving allows your email users to delete emails without worry. Since they don't have to hoard emails anymore, computer systems are greatly relieved.
Archiving protects mission critical data and addresses legal and regulatory issues, satisfying the requirements of laws like SEC, SOX, HIPPA, etc.
Email archiving can also help out when disaster strikes. It is separate from your mail server so if it all goes down there's still a copy of the whole archive on the archiving appliance.
With all these benefits added up, it's obvious that email archiving makes life a whole lot easier for IT staff - and less stressful. Give the gift of email archiving today!
Download our free white paper"The Benefits Of Email Archiving" for more information on how email archiving will be of use to your organization.