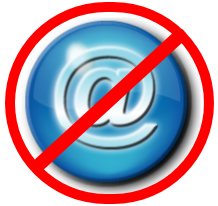 On this blog, we often talk about the reasons companies need email archiving solutions. We break down cases and give examples of why email archiving is a good idea. But today, we're not going to do that.
Today let's look at the kinds of companies that don't need email archiving solutions.
Something to Hide
If you know there's an email that was sent by someone in your company and it contains incriminating information, an email archiving solution is not for you. Finding vital emails is one of the key functions of email archiving solutions so if you don't want an old email to be found, it's probably not what you're looking for. If you think your company is going to be involved in a lawsuit, and you think you might lose, you'll want the process to run slowly. Email archiving solutions are designed to make the eDiscovery process easy so you may be better off archiving your email manually.
Not subject to any Regulation
If your business operates in an industry that is not subject to any regulations then you don't really need an email archiving solution. Businesses who don't need to meet any regulations are businesses that don't store any data. Businesses that don't have any financial information, customer or staff records or strategic documents aren't subject to any regulations either. These companies don't need email archiving solutions, because email archiving is designed to keep email data in compliance with legislation. But if legislation isn't an issue, then neither is email archiving.
Endless Data Storage
Any company that has limitless data storage space would have little need of an email archiving solution. If you're never going to run out of space to store your emails then you won't need to get a third party solution to store email for you. Email archiving solutions free up server space by providing an alternate location to store your email data. But if your storage space is never going to run out, then an email archiving solution probably isn't for you.
If your company falls into all of the categories above then you can safely ignore email archiving because you have little need for it. Of course your company doesn't really need anything because it couldn't possibly exist.
For more reasons you don't need email archiving solutions, download our free white paper "The Top 10 Reasons NOT to Invest in Email Archiving"