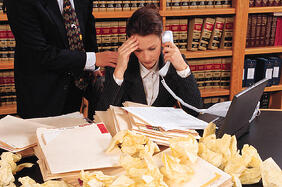 Death and taxes. These are apparently the two things we all must accept in life. They are inevitable. Any attempts to avoid them will either land you in jail or you'll spend your entire life trying to come up with some kind of elixir that makes you immortal. For businesses there is another inevitability to expect: eDiscovery requests. The county council of Clarksville, Tennessee learned that life lesson before they ended up with egg on their face. Let's look at why installing an email archiving system was important for them and why it should be important to your business.
Data Retention Period
The city council of Clarksville thought that when the inevitable eDiscovery request came their way, their email archive would be able to deal with it. However, their archive was only preserving emails for up to six months. Anything after that time would be deleted. By law you're required to preserve data for up to three years.
Legal Liability
Without an email archive that preserves data for longer than six months, the city council was creating a legal liability for the city. This means that if they received a request for documents from a year ago, they would be unable to fulfil it. Failure to fulfil an eDiscovery request could lead to a lawsuit being brought against the city council. If you can't complete an eDiscovery request within the 72 hours allowed, you have to inform the person seeking the documents and let them know why the request cannot be completed. The Clarksville council would not have been able to fulfil this request at all and if a ed judge deemed the eDiscovery request was valid, and the council would have faced a punishment from the courts.
Not having a properly implemented email archiving policy is not worth the fines that will come by not being able to complete an eDiscovery request. It is best to plan ahead and not get caught cold by an eDiscovery request. After all, some things in life are inevitable.
If you're worried your organization is not prepared for eDiscovery, download Jatheon's free 'Guide to eDiscovery' now.