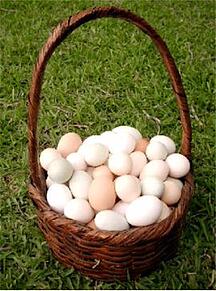 It's not long until Easter, and with that comes the images of painted eggs, chocolate eggs – all kinds of eggs. That said, does the phrase "putting all your eggs in one basket" apply your business data? Have you given enough consideration to your email archiving solution or are you just relying on your email server?
Email Servers
Your email server has a lot to do on a daily basis. Delivering incoming and outgoing messages and storing the messages employees have in their inboxes and folders. Relying on this server to store the backlog of email communication in this way is asking a lot of one piece of hardware. If this should fail, you have a lot to loose.
Employee Computers
So what about asking each employee to archive their own emails on their machines? Well that could work up to a point. But that's relying on each individual computer to store emails, as well as daily operations and storing any other important data they need to for their role. And what's to happen if that employee leaves or that machine fails?
Email Archiving
There is a simple answer to all these questions. Email archiving gives you a dedicated place to store and archive all the emails your business sends and receives. You can relieve the pressure on your email server and let your email archive take responsibility for storing and archiving. Employee machines also benefit from the email archive with access to all their emails without any risk of overloading the memory.
Is relying on this single piece of hardware also a one-basket solution? Far from it. An email archive is a dedicated solution – relieving other systems of the tasks that could slow them down or take away from their primary function.
Every business can benefit from an email archiving system. Download our free white paper which outlines the top 10 benefits of email archiving.